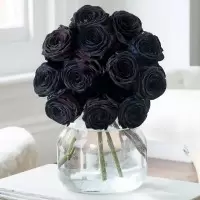 Impress someone with this bouquet of unusual black Naomi roses. If you're looking for a gift that's a little different, these black roses are perfect.

Please note due to the dyeing process of these flowers the colour may vary in pigment. The vase is not included.
Guaranteed lifespan for the roses are 5 days rather 7 as they are dyed.
| | |
| --- | --- |
| Product Rating | |
| Quality | |
| Value | |
5 Review(s)
Login to add a review
Customer Reviews
| | |
| --- | --- |
| Product Rating | |
| Quality | |
| Value | |

Flowers arrived in perfect condition. Recipients very happy with their flowers. (Posted on 18/07/2019)

| | |
| --- | --- |
| Product Rating | |
| Quality | |
| Value | |

Unique black roses, my friends like them. (Posted on 18/07/2019)

| | |
| --- | --- |
| Product Rating | |
| Quality | |
| Value | |

Excellent bouquet on time-great present (Posted on 18/07/2019)
easy to use (Posted on 22/06/2019)
easy to use (Posted on 22/06/2019)