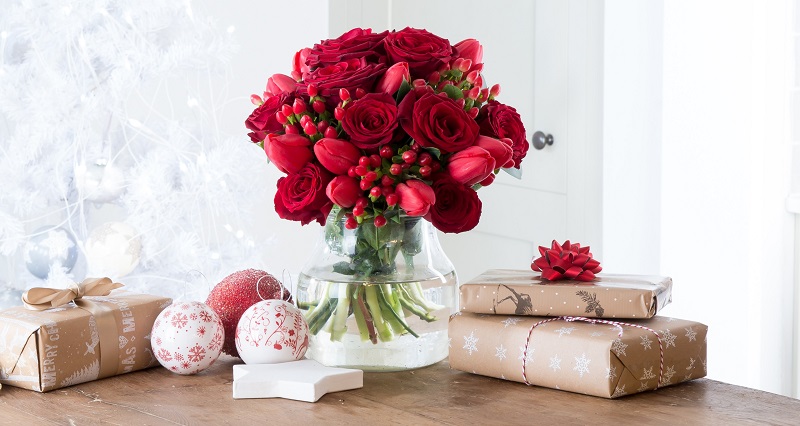 Christmas Gift Guide 2020
Struggling with Christmas gift ideas this year? Don't worry, we've put together this comprehensive gift guide to give you all the inspiration you need this Christmas! Take a look through our gifts to find the perfect gift for your friends and loved ones.
Christmas Flowers
With many of us not being able to see our loved ones this year, flowers can be a lovely way to send your love and best Christmas wishes. They're perfect for helping friends and family brighten up their homes and add some natural flair to their Christmas decorations. We have a range of beautiful bouquets designed especially for the festive season, with seasonal colours of red, gold, white, and green.
We deliver our Christmas blooms nationwide – simply make sure to order by the 23rd December for delivery on Christmas Eve. Don't forget, you can always pre-order as well! Our most popular arrangements often sell out in advance, so make sure you don't miss out on the perfect bouquet for that special someone.
View our Christmas flowers collection here.
Golden Greenbell & Rose

Festive Rose & Tulips
Flower Subscription
Looking for a more extravagant gift for a partner, or close family member or friend? Our flower subscriptions let you treat them throughout the year, with beautiful seasonal arrangements delivered each month. It's easy to set up – simply select how long you want to send flowers for, and where to send them to, and we'll take care of the rest.
View our flower subscription here.
Christmas Plants
We love flowers, but if you're looking for something longer lasting, a Christmas plant could be the way to go. You can have them delivered early so your recipient can enjoy them throughout the festive season. They're the perfect choice for fans of houseplants and those with green thumbs.
Choose from our collection of beautiful plants, including snowy white azaleas, festive red roses, and elegant Christmas orchids, for a gift they can enjoy into the New Year and beyond.
View our Christmas plants collection here.
Christmas Orchid plant

Christmas Azalea Plant
Mini Christmas Trees
Looking for an unusual Christmas gift? Our mini Christmas trees will do the trick! These cute mini trees come decorated with lights and baubles of your choice. You can find the right style to suit your recipient and their home. Our traditional evergreen trees are perfect for those who prefer a classic look at Christmas, whilst our modern twig trees work seamlessly with contemporary and minimalist decor. The evergreen mini trees can even be planted in the garden after Christmas!
These trees are a great choice for those with smaller spaces such as apartments. They also work really well as an additional decoration, so can be a fantastic gift for those who can't get enough of Christmas and love decorating their homes.
View our mini Christmas trees here.
Christmas Hampers
Looking for a gift for all the family, or something a foodie will love? Our Christmas hampers are a fabulously indulgent gift, full of festive goodies to help them enjoy a true Christmas feast. Each hamper is beautifully presented and the contents have been carefully selected to include only the finest food and drink.
View our Christmas hampers here.
The Christmas Eve

Dig & Share
Christmas Gift Sets
Still can't decide what to send? Treat them to a bit of everything with our curated Christmas gift sets. We've paired our beautiful Christmas blooms with a variety of other gifts, including Bottle 'N' Bars, delicious Guylian chocolates, Champagnes, and Proseccos. With so much to choose from, you're sure to find something perfect in the selection.
View our Christmas gift sets here.
Festive Rose & Tulips with Champagne & card

Winter Blush & Pink Gin Bottle 'N' Bar