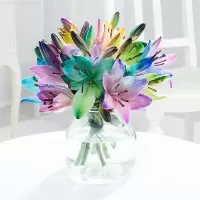 Wow a friend or loved one with these spectacular scented rainbow lilies. This bouquet pulls out all the stops & is sure to leave the recipient delighted with their gift. The flowers will arrive in bud, ready to bloom.
Please note the bouquet pictured is the Standard size and the vase pictured is not included
Also, please be aware that dyed flowers have a shorter lifespan and appearance to undyed flowers. The petals curl at the ends and will start to diminish after approximately 5 days. Therefore we offer a 5 day freshness guarantee rather than the standard 7 days.

"This bouquet of scented rainbow lilies really is one of a kind"
| | |
| --- | --- |
| Product Rating | |
| Quality | |
| Value | |
6 Review(s)
Login to add a review
Customer Reviews
| | |
| --- | --- |
| Product Rating | |
| Quality | |
| Value | |

I have had flowers in the past from other online company's and the quality has not been very good, your flowers are amazing and great value fir money!???????????????????????? (Posted on 11/07/2019)

| | |
| --- | --- |
| Product Rating | |
| Quality | |
| Value | |

Easy to order online great value for money and arrived on the date stated for a family members birthday. Will use again. (Posted on 11/07/2019)

| | |
| --- | --- |
| Product Rating | |
| Quality | |
| Value | |

Excellent service, great flowers (Posted on 11/07/2019)

| | |
| --- | --- |
| Product Rating | |
| Quality | |
| Value | |

Flowers were nice, even pretty than in picture! (Posted on 11/07/2019)

| | |
| --- | --- |
| Product Rating | |
| Quality | |
| Value | |

I received these beautiful lilies for mothers day, I've never seen such stunning flowers. The photo honestly doesn't do them justice, they are so much more vibrant and beautiful in real life. Gorgeously packaged. I can't stop looking at them and my daughters are mesmerised. Thankyou so much, will definitely be re-ordering. (Posted on 04/04/2019)

| | |
| --- | --- |
| Product Rating | |
| Quality | |
| Value | |

I hadn't seen these before and thought i'd buy something different as a treat to myself. I was so amazed when these arrived to see all of the beautiful colours they really brightened up my home.Would recommend these lilies. (Posted on 22/09/2017)