Letterbox Pomegranate Punch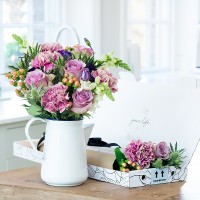 This vibrant combination of nightingale roses, snapdragons and antique carnations stands out in any room. Don't worry about your loved one being out because it can be delivered conveniently through the letterbox!

Please note that the rose heads have a diameter of approximately 4.5-5cm. The vase is not included.
| | |
| --- | --- |
| Product Rating | |
| Quality | |
| Value | |
5 Review(s)
Login to add a review
Customer Reviews
| | |
| --- | --- |
| Product Rating | |
| Quality | |
| Value | |

Friend was thrilled with the quality and presentation of the flowers. Great customer service. (Posted on 11/07/2019)

| | |
| --- | --- |
| Product Rating | |
| Quality | |
| Value | |

Very good prompt service (Posted on 11/07/2019)

| | |
| --- | --- |
| Product Rating | |
| Quality | |
| Value | |

Stunning colours. (Posted on 11/07/2019)

| | |
| --- | --- |
| Product Rating | |
| Quality | |
| Value | |

Mother's Day gift; perfect. (Posted on 31/03/2019)

| | |
| --- | --- |
| Product Rating | |
| Quality | |
| Value | |

I was very impressed with this bouquet. The colours were fantastic and i loved the roses & carnations. I also wasn't home when delivered, so the letterbox style came in very handy! (Posted on 19/09/2017)